Cotton Top Tamarins are only found in tropical forest edges and secondary forests in north-western Colombia. They are one of the smallest monkeys in the world, from head to body, they are about 25 cm, plus a long tail that is about the same size, and they weight less than 500 grams. In 1973 up to 40,000 cotton-top tamarins were exported for use in biomedical research before it was banned. After that they were declared endangered. Now, according to the IUCN Red List, they are critically endangered due to destruction of their habitat for cattle ranching, agriculture, and urban development.
Cotton Top Tamarins are known for their long white crest of hair
Cotton Top Tamarin  front


Illustration for tactile and visual Variations


2019
the father carries the babies on their back while the mother looks for food
Cotton Top Tamarin carrying his babies
Black & White Illustration


2019
Cotton Top Tamarins live in groups of 13
Cotton Top Tamarin group of 13
Black & White Illustration. Color and Black Background Variations


2019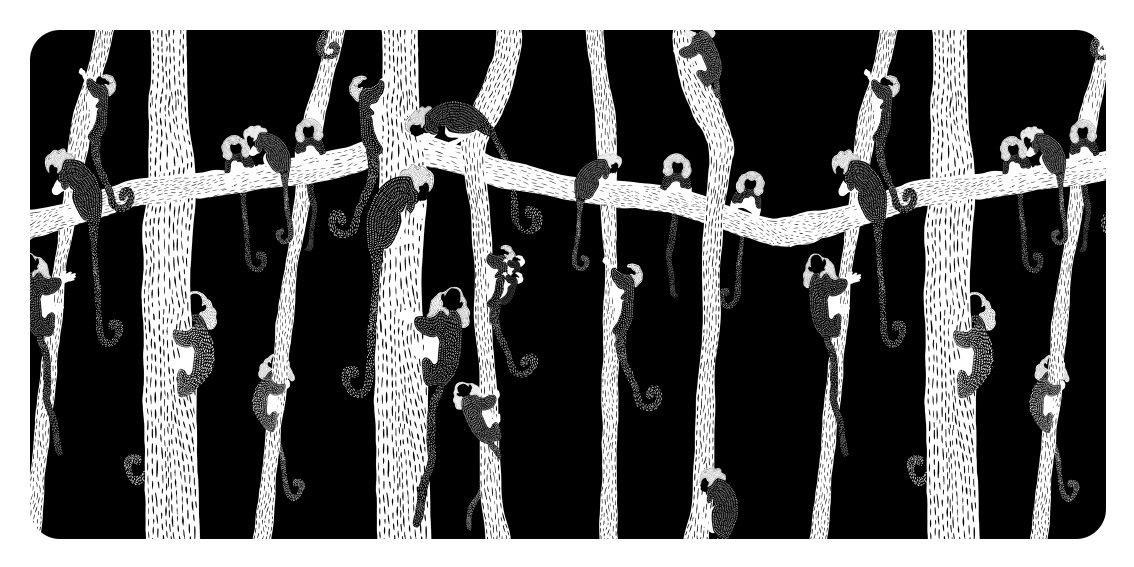 Only one couple of the group mate and have babies
Cotton Top Tamarin Pattern.
Black & Colour Background Variations


2019
Tactile Illustration
Laser Carved Wood
30x25 cm
2019
COTTON TOP TAMARIN

PUZZLE
Tactile Puzzle
 Laser carved wood
30 x 40 cm 
2019​​​​​​​